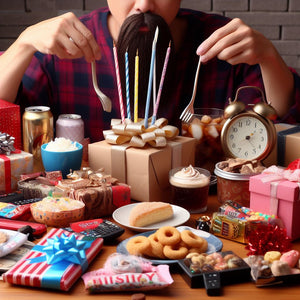 10 Budget-Friendly Birthday Gift Ideas to Delight Your Husband
"10 Budget-Friendly Birthday Gift Ideas to Delight Your Husband"
Is your husband's birthday around the corner, and you're looking for unique and affordable gift ideas to make his day extra special? We've got you covered! In this blog, we'll explore 10 fantastic and budget-friendly gift ideas, including personalized gifts and a shout-out to Toobas.pk, a fantastic gifting store to explore.
Customized Photo Album: Create a personalized photo album filled with your cherished memories. Add captions and anecdotes to make it even more special

Toobas.pk Personalized Mug: Visit Toobas.pk and order a customized mug with a meaningful photo, an inside joke, or a loving message. It's a gift that keeps on giving with every cup of coffee.

Handwritten Love Letter: Pour your heart out in a heartfelt love letter. Express your love, gratitude, and appreciation. This thoughtful gesture costs nothing but means everything.

Homemade Coupons: Craft a set of homemade coupons that offer services or experiences like a foot massage, a home-cooked meal, or a movie night of his choice.

Personalized Keychain: Get a personalized keychain with his initials, a memorable date, or a special message. It's a small but meaningful token of your love.

Customized Calendar: Create a personalized calendar featuring your favorite photos together. This practical yet sentimental gift will brighten his desk or workspace.

DIY Gift Basket: Assemble a gift basket with his favorite snacks, beverages, and small, thoughtful items. You can personalize it to include his preferred treats.

Toobas.pk Engraved Bracelet: Visit Toobas.pk for an engraved bracelet with his name, your initials, or a meaningful date. It's a stylish and sentimental gift.

Indoor Plant: A small indoor plant or succulent is a great way to add a touch of nature to your home. It symbolizes growth and nurturing in your relationship.

Cook a Special Meal: Plan a surprise dinner at home, cooking his favorite dishes. Don't forget to set the mood with candles and soft music.
Toobas.pk, an excellent online gifting store, offers a wide range of customized gifting options to make your husband's birthday even more special. From personalized mugs and engraved bracelets to other creative gift ideas, Toobas.pk has you covered. They provide quality products that can be customized to suit your preferences, ensuring that your gift is truly unique.
These budget-friendly gift ideas and personalized gifts will not only surprise your husband but also show him how much you care. Remember, it's not the price tag that matters; it's the thought, love, and effort you put into making his birthday memorable. Celebrate your husband's special day with a heartfelt and meaningful gift that he'll treasure forever.
---