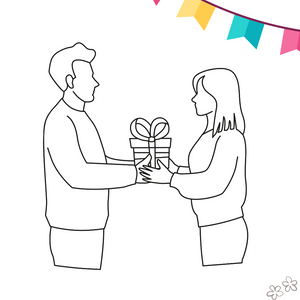 The Magic of Customized and Personalized Gifts: Perfect for Every Occasion in Pakistan
The Magic of Customized and Personalized Gifts: Perfect Gift for Every Occasion in Pakistan
How You Can Surprise Your Loved Ones with Surprise Customized Gifts
Gift-giving to your loved ones has always been a heartwarming way to express love, gratitude, and appreciation. In Pakistan, the market for customized and personalized gifts has been rapidly growing, offering a unique touch to every special occasion. Whether it's a birthday, anniversary, wedding, Nikkah, Engagement, Valentines, New Year, Eid, Ramadan or any other event worth celebrating, personalized gifts hold a special place in the hearts of both senders and recipients. In this blog, we will explore the various types of customized gifts available, the occasions they cater to, and the flourishing market for such gifts in Pakistan.
Types of Customized and Personalized Gifts:
Customized Leather Accessories:

Customized Wallets, Customized keychains, Customized Name Belts, Customized Diary, Customized Jacket and belts adorned with personalized initials or names make for elegant and thoughtful gifts.

Enchanting Moon Lamps:

These stunning lamps can be customized with personal photos, messages, or designs, creating a unique and romantic ambiance.

Memorable Photo Frames:

Capture cherished memories by personalizing photo frames with pictures and heartfelt messages, making them a perfect gift for any occasion.

Personalized Mugs:

Start the day with a smile by gifting customized mugs featuring photos, quotes, or inside jokes, adding a personal touch to coffee or tea time. It also has a customized Magic mug,

Customized Pillows and Cushions:

Transform ordinary cushions into cherished keepsakes by printing personal photos, names, or special messages, offering comfort and warmth.

Customized Apparel:

Personalized shirts, hoodies, or caps with names, quotes, or graphics allow individuals to showcase their unique style and personality.

Customized Bags and Backpacks:

Functional and fashionable, customized bags and backpacks with monograms or designs make practical and stylish gifts for all ages.
Occasions and Celebrations:
Birthdays:

Surprise loved ones with personalized gifts on their birthdays, such as customized photo collages or engraved jewelry, making their day truly special.

Anniversaries:

Commemorate milestones with customized gifts like engraved watches, photo albums capturing years of cherished memories, or personalized wine glasses for a romantic toast.

Weddings and Engagements:

Personalized wedding gifts such as custom-made nameplates, engraved champagne flutes, or photo canvases celebrating the couple's love story add a sentimental touch to their special day.

Festivals and Religious Events:

Celebrate Eid, Diwali, Christmas, and other religious festivals with personalized gift baskets, customized cakes, or engraved religious artifacts, spreading joy and blessings.
The Flourishing Market for Personalized Gifts in Pakistan:
The demand for personalized gifts in Pakistan has witnessed tremendous growth in recent years. Numerous online platforms, such as Toobas.pk, have emerged, offering a wide range of customized gift options to cater to different preferences and budgets. These platforms provide convenient and secure ways to order personalized gifts from anywhere in the world and have them delivered to loved ones in Pakistan.
Customers in Pakistan appreciate the personal touch that customized gifts bring to their celebrations. From intricate craftsmanship to attention to detail, personalized gifts create a lasting impression and leave recipients feeling cherished. The market for personalized gifts has become a thriving industry, supporting local artisans, designers, and small businesses.
Conclusion:
Customized and personalized gifts have become an integral part of the gift-giving culture in Pakistan. With a diverse range of options available for various occasions, individuals can now express their love and thoughtfulness in unique ways. Whether it's a birthday, anniversary, wedding, or religious festival, personalized gifts hold the power to create unforgettable memories. As the market for customized gifts continues to flourish, both senders and recipients in Pakistan are embracing the magic. If you are looking for Online Gifts service in Pakistan, Explore toobas.pk an amazing collection of Online Gifts available here, Send Gift Baskets, Send Flower Bouqets or Send Personalized gifts to your loved ones.
---